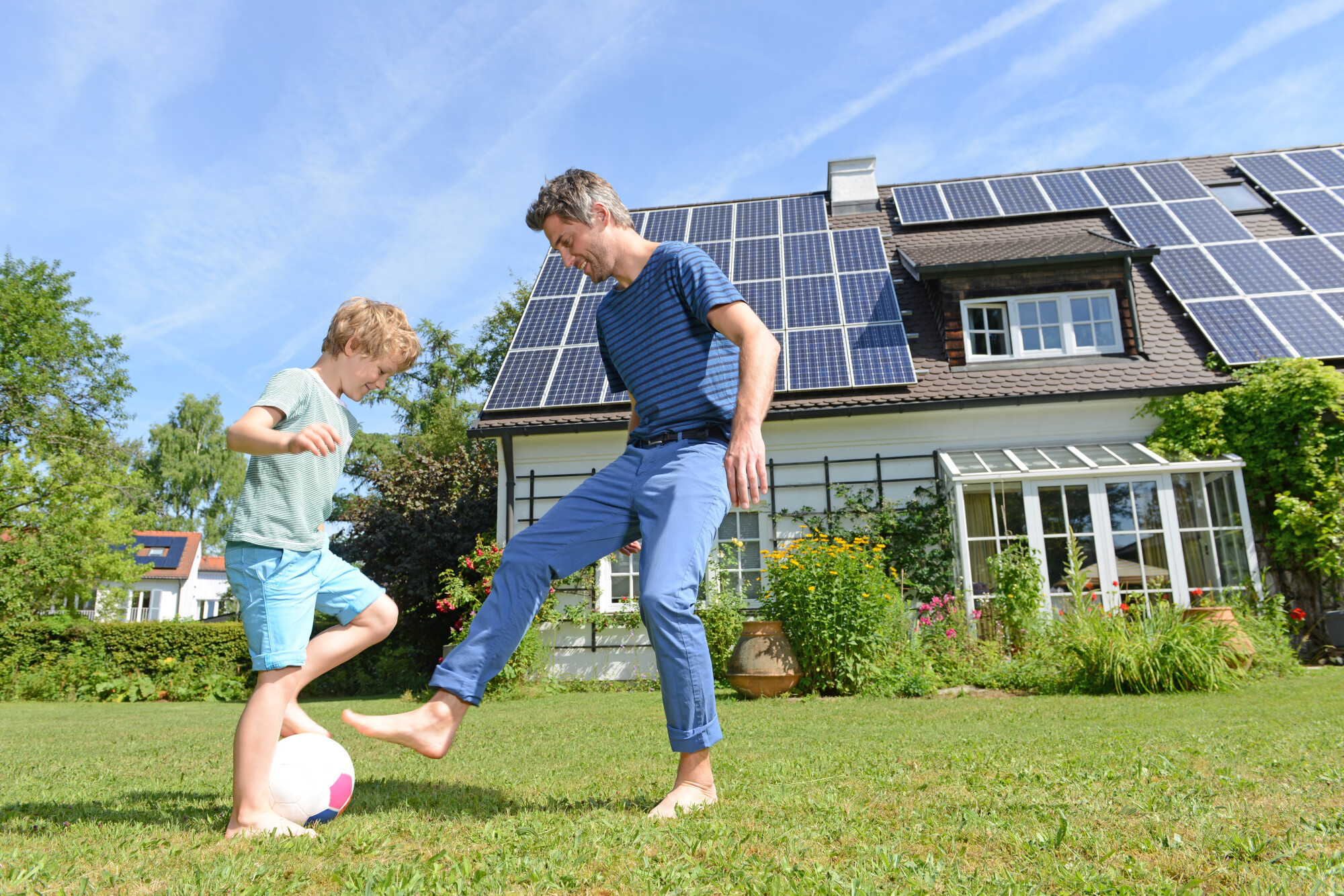 Today, the price of solar PV panels has declined by 99% since 1977. As a result, many are switching to save energy and money.
You might wonder how you could save energy and money around your home.
Well, we're here to help! From solar panels to energy-efficient appliances, there are various options you won't want to miss. Read this guide on how you can conserve energy and save money simultaneously. 
1. Save Money by Changing Your Daily Habits
Save energy at home by turning off lights and appliances when they're not in use. Perform household tasks manually whenever possible. These could include washing dishes by hand, hand-drying clothes, etc. 
Use your air conditioner less, the same for your heat in the winter. Heating and cooling are one of the largest factors in energy costs. 
2. Use a Smart Thermostat
Save money by having a programmable thermostat. You can set it to turn off cooling or heating when you're asleep or away. 
They connect with an app on your phone to give you ease of use. You'll also be able to control it from anywhere. 
Even if you forget to make adjustments, since it's a smart thermostat, it'll often remember what you changed it to. You'll also be able to access various reports, including long-term and short-term energy consumption. Compare it to past reports to see ways to save electricity.
3. Reduce the Water Heater
Reduce the water heater to save money. It could also reduce mineral buildup in your pipes.
 If your dishwasher has a heat booster, the dishes might not get as clean. Those with respiratory disease or a suppressed immune system might need it to stay at 140 degrees. 
4. Check Your Windows
One of the top ways to save money is to replace old windows. You'll want to find and fix drafts if that's not an option. 
Use caulk on any gaps that are less than one-quarter of an inch on windows. Only caulk the non-movable parts, such as the trim and frame. 
You'll save money on utilities by doing this. Ensure that the window treatment you choose matches the light the window receives. 
Consider blackout curtains in the winter to keep your home cooler. They can reduce heat gains and save you money. Another option is cellular shades and blinds. 
5. Switch Lightbulbs
Make the switch to LED lightbulbs. They have a long life span and consume the least amount of power. Use motion controls or timers for rooms, so the lights turn off automatically. Dimmer switches are another great option. 
6. Replace Appliances
Check appliances to see if they need replacing. Most new appliances will last for 10 years. 
Replace air conditioners, dryers, washing machines, and refrigerators first. You'll wind up using less detergent, energy, and water. Some local utility companies will offer you a rebate. 
7. Insulate Your Home
One of the top ways to save money is by sealing and insulating your home. It could reduce utility bills and improve indoor air quality. First, check for leaks. 
Some common areas might include: 
Fireplace dampers

Baseboards

Switch plates

Mail slots

Electrical receptacles

Window frames

Air Conditioners

Attic hatches

And more
Air leaks are the most common in the attic. Seal small holes. 
Look for areas where the insulation is darkened. In cooler climates, you might see frosty areas in the insulation. 
In warmer months, you could see water staining the areas. Use caulk to seal the openings around electrical wires and vent pipes. 
Insulation should cover the area after the caulk dries. Use weatherstripping to seal up the attic access panel. You can cut a piece of fiberglass or foam board insulation and glue it to the back of the attic access panel. 
8. Install Solar Panels
Solar panel installers can go over how solar panels can save you energy and money. Solar power is clean and renewable energy. 
It doesn't use pollution or fuel. It's a great way to slash your electricity bill and help the environment. 
You don't have to buy electricity from the centralized grid either. Once it's set up, you'll enjoy free energy making it worth it. Solar panels also increase the property value of your home. 
Many homeowners enjoy that they can sell excess energy back to the grid. That means you'll be able to make energy for yourself while potentially making money. Many solar panels come with a performance guarantee as well. 
9. Install Ceiling Fans
Use ceiling fans throughout your home. Have them spin counterclockwise in the summer to pull hot air up to the ceiling away from the living area. In the winter, have it go opposite, blowing the hot air downward. 
10. Conserve Water
Consider low-flow fixtures for your toilet, faucet, and shower. Fix toilets that leak, faucets that drip, etc. Don't keep water running while brushing your teeth. 
11. Change Filters
Routinely empty or change filters on your furnace. Many companies recommend doing this monthly or quarterly to keep it performing at its best. Empty the lint filter in your dryer whenever you use it. 
12. Update Your Landscaping
Plant trees since they could help with heating and cooling costs. In the summer, they provide shade to keep your home cool. In the winter months, they'll provide a wind break. 
Plant deciduous trees on the south and west sides of your home. You'll want them to shade surfaces such as patios and driveways.
They'll lose their leaves in the winter allowing the sun to warm your home. Plant evergreen trees on the north side of your home to shield it from cold winds each season. 
13. Use the Cold Setting on Your Washer
Use cold water to wash your items. Heating water uses up a lot of energy. 
You could also use a low-flow shower head to save energy too. Look for ones that have the EPA's WaterSense certification. These are independently tested to ensure they use water pressure while reducing your hot water use. 
14. Use Cloth Napkins
Use rags and cloth napkins instead of paper towels. Using dish towels or cloth napkins instead of paper towels is much more cost-effective. 
You could consider cellulose sponge cloths that can be reused. Some are even biodegradable, cutting down on your carbon footprint. 
15. Perform Regular Maintenance 
Perform regular maintenance on appliances. When an appliance runs less efficiently, it uses more energy. Have your HVAC system inspected and tuned each year. 
Change the filters as well. Dryers and refrigerators must be well maintained; they'll cost more without them. Clean the vent hose of the dryer lint trap whenever possible. 
16. Use Energy-Efficient Appliances
Consider upgrading to energy-efficient appliances whenever possible. This can lead to huge savings over time. Even if you replace the HVAC system, it could save money and energy compared to the old unit. 
17. Plug Into Power Strips
Electronics use tons of energy when they're in standby mode or turned off. Use power strips to turn electronics off and save on energy. 
Vampire loads consume energy even when devices are in sleep mode. This could be your laptop, TV, cable box, etc.
Use a smart power strip whenever possible. Remember that a traditional power strip uses energy when it's plugged in.
Smart power strips can save energy and cut off power. They can detect when a device is in standby mode. 
18. Stop Heat From Escaping Your Home
Insulation will help to keep your home warm in the winter and cool in the summer. To ensure that you have the right amount of insulation, consider hiring an insulation professional. They'll install additional layers as necessary to ensure it's energy efficient. 
19. Watch Appliance Usage
Reduce appliance usage by using the automatic sensor to turn off the dryer when clothes are dry. Only wash full loads of dishes and clothes. Use sensors to turn off lights and ceiling fans. 
Consider investing in an energy-efficient heat pump. You could earn a rebate when you install and buy an energy-efficient heating and cooling system. 
Understanding the Various Ways To Save Energy and Money
After exploring this guide, it should be clear how you can save energy and money throughout your home. Make a plan and identify what you can change to get started. 
Are you dreaming of having high-quality solar panels in your home and finally not relying on the centralized grid? Not only will you be helping the earth by conserving energy, but you'll save money on your power bill and potentially make money by selling extra energy. 
Get your solar energy estimate today! If you have any questions along the way, we're happy to help.