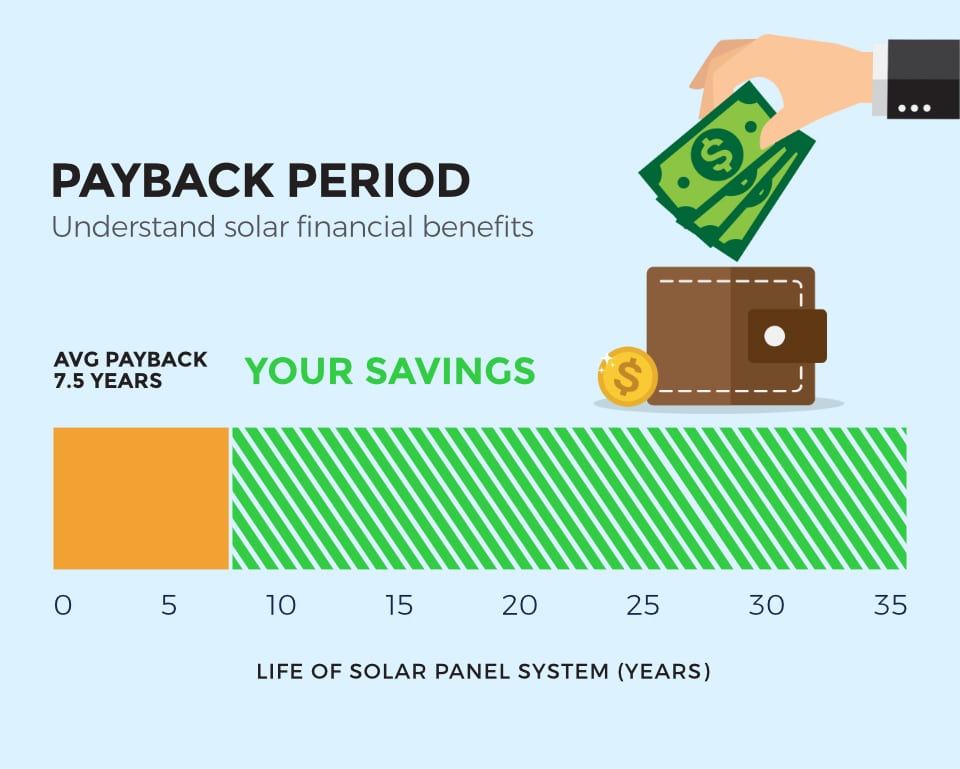 AN INSIDE LOOK AT RESIDENTIAL SOLAR SYSTEM COST
More and more homeowners are making the switch to solar these days, and it's easy to see why. We all want to do our part to help the environment, and solar power is a big part of that. In addition to feeling environmentally conscious, we have practical reasons for installing solar panels at home: saving money! Our clients typically see savings of 20% to 50% compared to their traditional utility providers – right from day one.
THIS ISN'T YOUR PARENTS' SOLAR POWER
In the past, installing a home solar system was somewhat burdensome, with a variety of up-front expenses and long-term risks. Homeowners were asked to spend $30,000 – $40,000 to purchase and install the solar system, and bear the responsibility of maintaining and insuring the solar panels.
Homeowners probably even incurred a lien on their home, which meant residential solar panels cost more than anticipated, paying them off for years before they reached a break-even point.
MORE MONEY IN YOUR POCKET
Most traditional energy providers use coal to generate power, which needs to be shipped around the country and then transported to you through hundreds of miles of power lines and transformers.
That's extremely unruly, inefficient – and expensive. Electric companies often make billions of dollars off of consumers every year, no matter what the season or state of the economy.
With solar power, you escape the traditional utility trap and act as your own provider with the panels on your own roof.
Not only is the fuel source (the sun!) abundant and free, but solar allows you to stop paying the utility company's delivery fees, taxes, regulatory charges, and a laundry list of other costs.
CHOOSE YOUR SOLAR PLAN
Choose the solar plan that works best for you!
KNOWLEDGE GUIDES
Knowledge Guides provide an opportunity for you to learn everything you need to know about solar panels, as a consumer looking to make an investment. Our team of Solar Experts creates new knowledge guides every week in order to provide potential solar system consumers with the latest insights from industry professionals.
WHY LGCY POWER?
LGCY Power is the nation's premier solar company, serving smart homeowners who want to transition to solar power. Solar is the lynchpin of the clean energy revolution, with hundreds of thousands of homeowners now saving money with solar at home. LGCY Power is leading the solar revolution, making the process of going solar a smooth, efficient, and highly lucrative experience.
I love my solar, it looks cool, it saves us money and my little girls know the importance of helping the environment.

For years I was stressed about my electric bill as I like to be comfortable in the summer with air, and running my pool and jacuzzi are quite expensive. After meeting with Ashton Buswell from LGCY, he quickly showed me how much money I can save. He was right…..I was able to get solar AND save over $200 per month. The financial savings is always a consideration when making a big commitment such as solar however, the customer service and hands-on approach with Ashton and his LGCY team are truly why I chose this company. They were responsive with every question along the way, and also told me in advance what to expect. I am now on year 3 with solar and I have referred my family and numerous friends who echo my sentiments! If you want an honest, professional, loyal, trustworthy, friendly company to deal with, PLEASE consider LGCY and Ashton Buswell! You will not be disappointed.

I signed up for solar to be installed on our home and definitely one of our best decisions as a family. The whole solar process was seamless and swift. My LGCY rep was very informative and kept me updated for each stage of the process.

SCHEDULE A
CONSULTATION
Take our quick, 30-second solar questionnaire and see if you qualify to take back control of your power.
Going solar is easy. Let us show you.

Sneak a peek at what your new monthly payments could be.

Take control of your power and get a predictable power bill.